Exciting Fabrique Dating Promotions - Limited Time Only!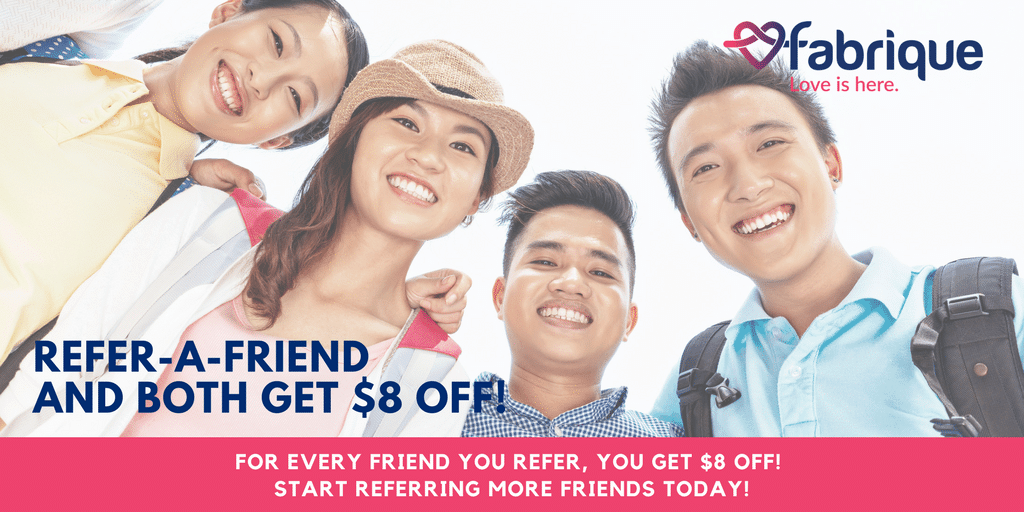 Refer-a-friend Promotion for Events (Revised)
*With effect from Aug 2018
Share the fun & joy with your friends! Each time you refer a friend to us, both you and your friend receive an exclusive promo code from us!
TERMS
For every friend that you refer, you and your friend each receives an exclusive $8 promo code.
During your sign-up, please indicate who is your referral. An email with the promo code will be sent to your email upon verification.
Referred Friend must not be an existing member / past event goer of Fabrique.
Fabrique reserves the right not to accord the discount if we are not informed that he/she is your referred friend.
Promo code is only valid for 6 months from date of issue.
Promo code cannot be used in conjunction with other discounts or during promotion period.
To redeem, simply key in the promo code in the fill upon checkout.
Fabrique reserves the right to revoke this discount at its own discretion.
For any queries / discount related issues, please contact us at [email protected]