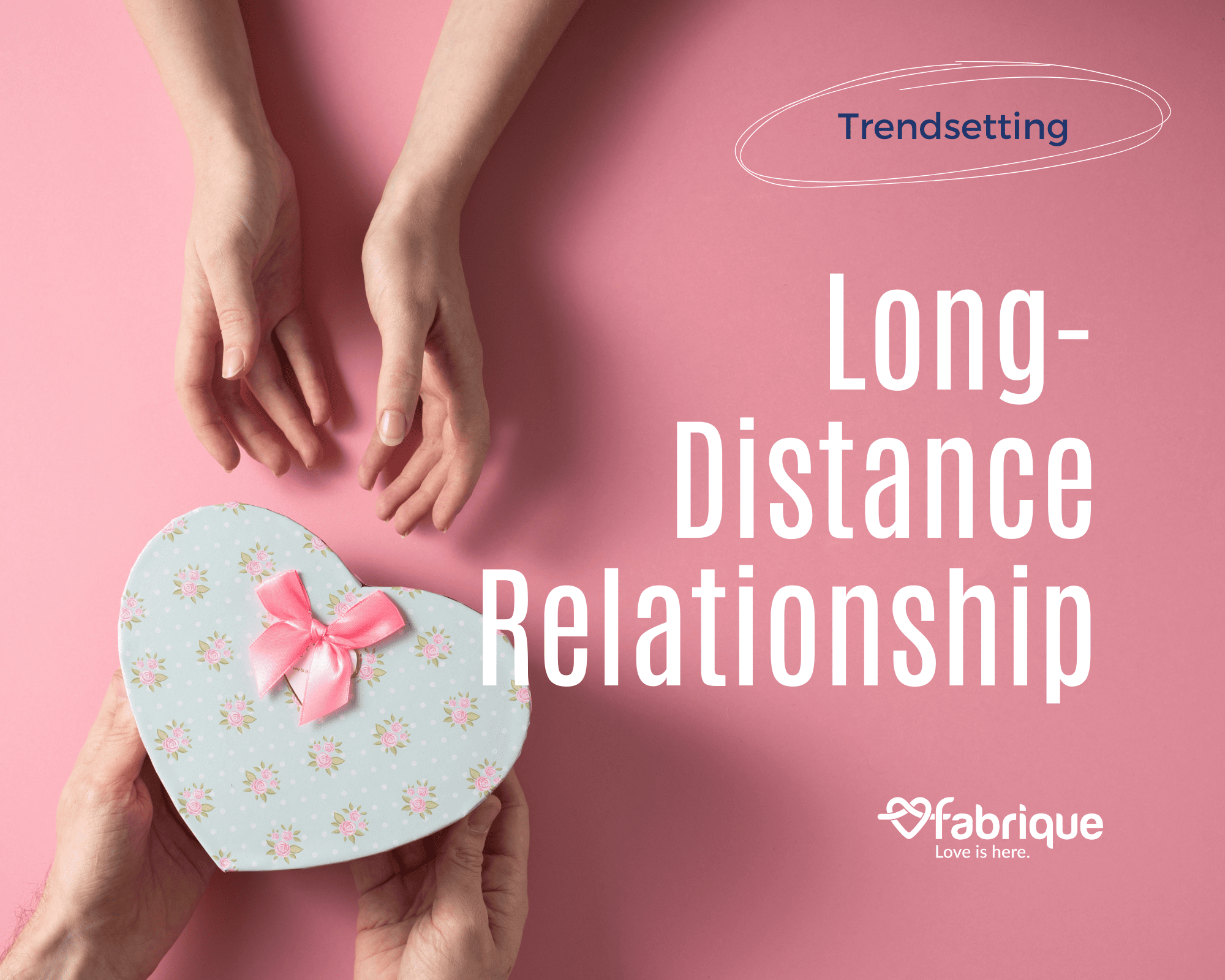 What is long distance relationship?
A long-distance relationship (LDR) is a romantic relationship where two individuals are physically apart, often living in different locations. They rely on communication tools like phone calls, video chats, messaging apps, social media, and email to stay connected and maintain their relationship (Jasmime Kaur, 2022) . These relationships are often seen as challenging, depending on the individual's love language, but ultimately viewed as a transient phase in a relationship, no matter how long.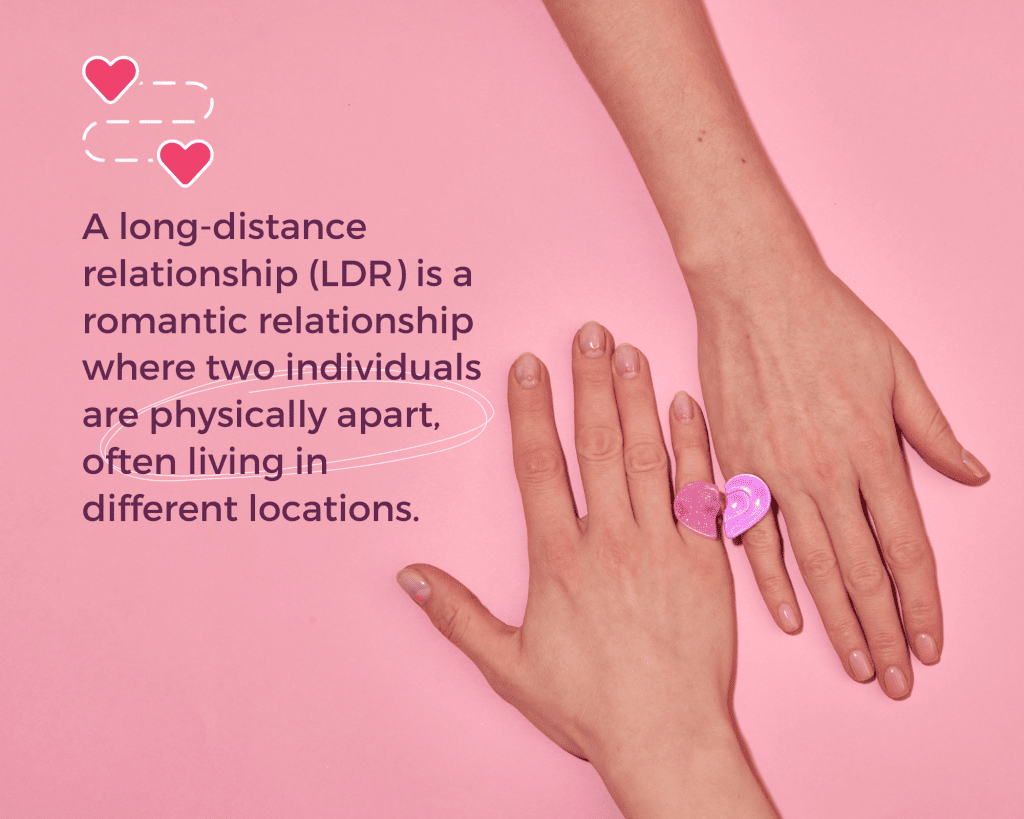 "Embarking on a journey of a long-distance relationship spanning 5 – 6 years may seem daunting, but it's essential to anchor the bond of unwavering trust and the profound respect we share. As we navigate this path, it's crucial for each of us to invest in our own lives, dedicating our energies to personal growth and the management of our respective commitments. While the road ahead might present its challenges, I believe that the sacrifices we make now will ultimately give us a stronger connection and a brighter future together. Though uncertainties may arise, every struggle we endure will be outweighed by the immeasurable joy and fulfillments we'll find when this journey is over… But personally, I would never do LDR again."

Shared by Nic.
What are the common scenarios for LDR in Singapore?
Individuals seeking significant personal freedom while simultaneously craving for a meaningful partnership. A conflict of personal objectives increasingly prevalent amongst the younger generation.
Single individuals with professions necessitating frequent traveling, like those who embrace a digital nomadic lifestyle.
Married partners with one spouse employed abroad, facing financial limitations of not being able to live together.
Local Singaporeans who are married to foreign partners, as discussed in our earlier article on dating a foreigner, and who opt to live in their respective home countries rather than relocating to Singapore.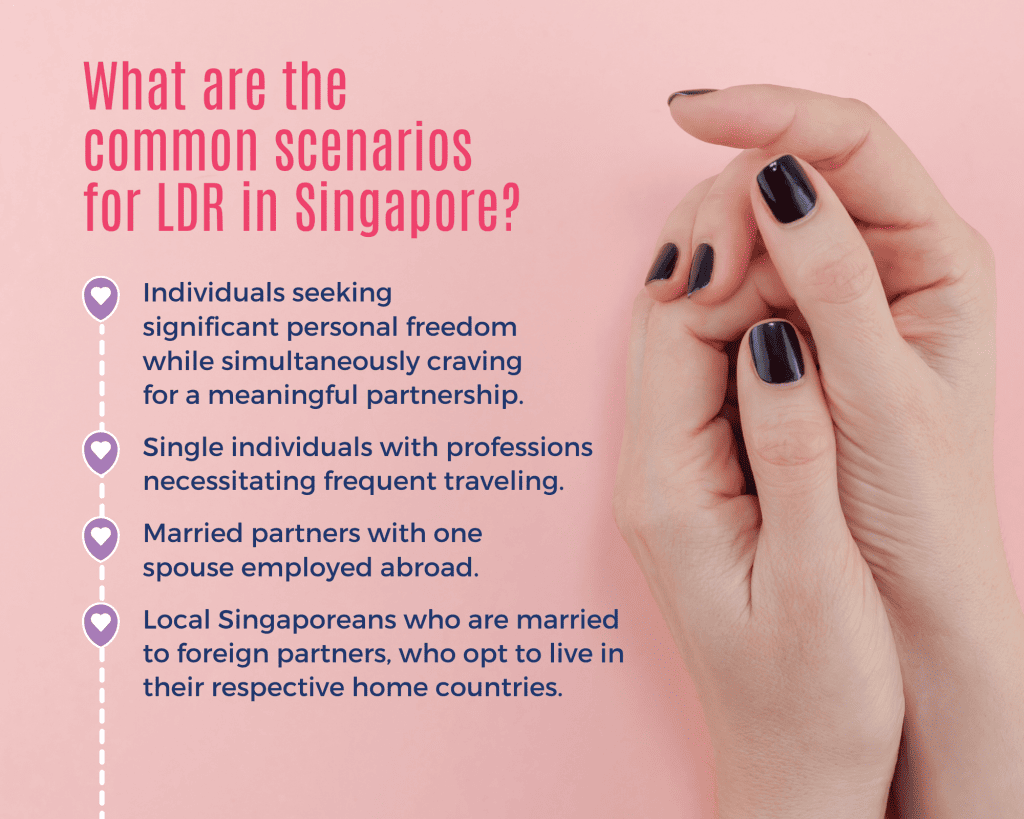 Overseas Singaporeans Population, as of June, 2022
| Year | Number of Overseas Singaporeans |
| --- | --- |
| 2012 | 200,000 |
| 2013 | 207,000 |
| 2014 | 212,200 |
| 2015 | 212,500 |
| 2016 | 213,400 |
| 2017 | 214,700 |
| 2018 | 216,400 |
| 2019 | 217,200 |
| 2020 | 203,500 |
| 2021 | 179,500 |
| 2022 | 185,800 |
Source: https://www.strategygroup.gov.sg/files/media-centre/publications/Population-in-Brief-2022.pdf
In 2021, there were 179,500 Overseas Singaporean (OS), of whom 123,900 were in the working ages of 20 – 64 years. However, we do not have data on the number of OS or overseas permanent residents working in each city and the fields they are working in.

Written Answer (to be attributed to the Minister for Trade and Industry Gan Kim Yong)
About 1 in 6 citizen marriages last year were inter-ethnic, similar to the trend observed in previous years. 
What are the pros of ldr ?
The pros based on Andreas (2020) include having lots of personal space and leisure time to do what you want. If you're someone who is still discovering your strengths and weaknesses in terms of academics or work, being in a LDR doesn't seem too bad.
Secondly, your trust and commitment will always be tested, the higher level of trust and commitment will strengthen the foundation of the relationship.
Thirdly, there will be an increased emotional intimacy when individuals are forced to rely on online communication rather than physical touch.
Lastly, a LDR will prepare both partners for future challenges when problems arise in the future, due to their communication skills and problems solving methods used previously. Hence, starting their future with a solid foundation.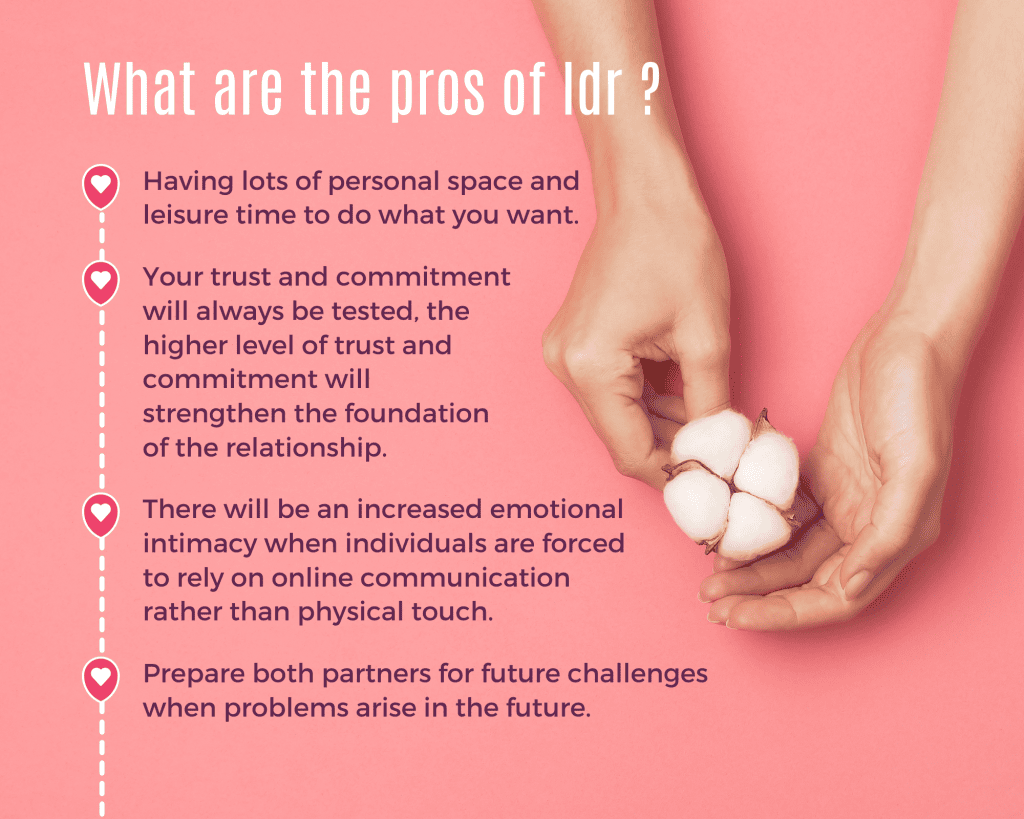 What are the cons of ldr ?
On the flip side, the disadvantages of a long-distance relationship may lead some individuals to believe that LDR is not a viable option for them. A substantial 66% of individuals acknowledge that the absence of physical intimacy contributes to the dissolution of a relationship, while 50% end their relationships due to feelings of loneliness (Duckju Kang, 2019; Andreas, 2020).
This is because of the absence of physical closeness, especially for individuals whose primary love language is physical touch. This can result in feelings of loneliness and frustration, making a long-distance relationship an undesirable choice for them. Consequently, this could lead to a decline in romantic attraction.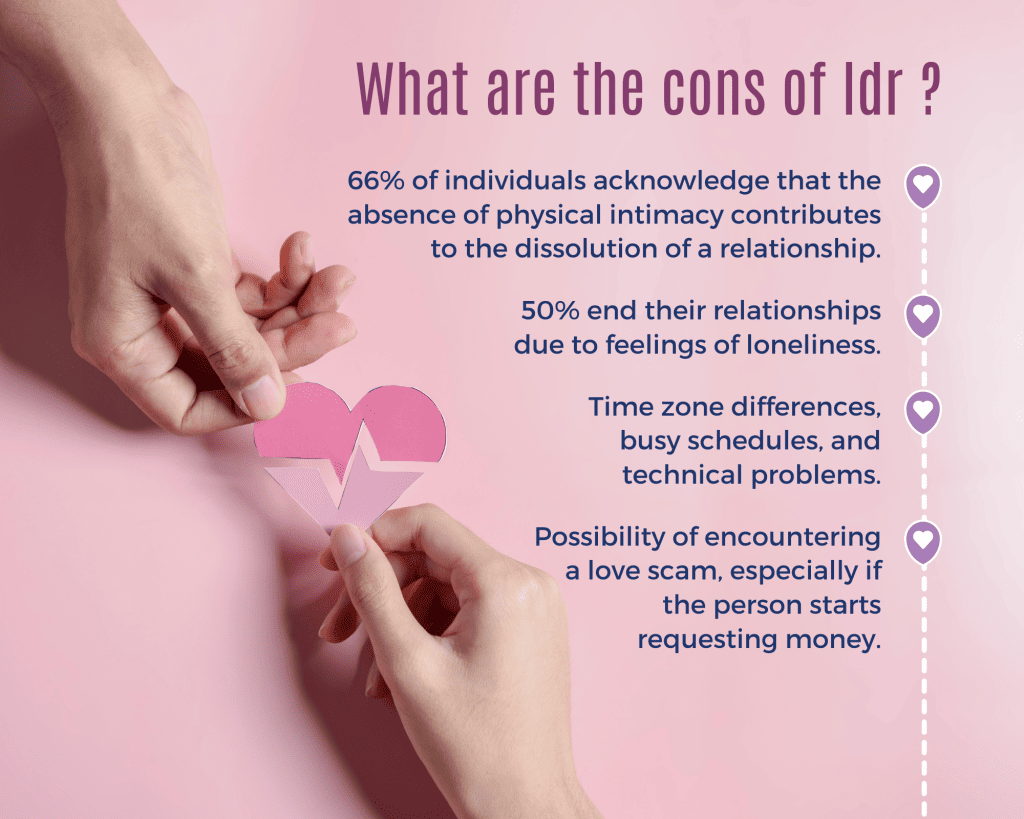 Additionally, despite the advancements in technology, communication in long-distance relationships can still be hindered by factors such as time zone differences, busy schedules, and technical problems, which may lead to misunderstandings and miscommunication. Moreover, certain locations may have inadequate internet connectivity or no signal at all, resulting in limited communication throughout the day (Andreas, 2020).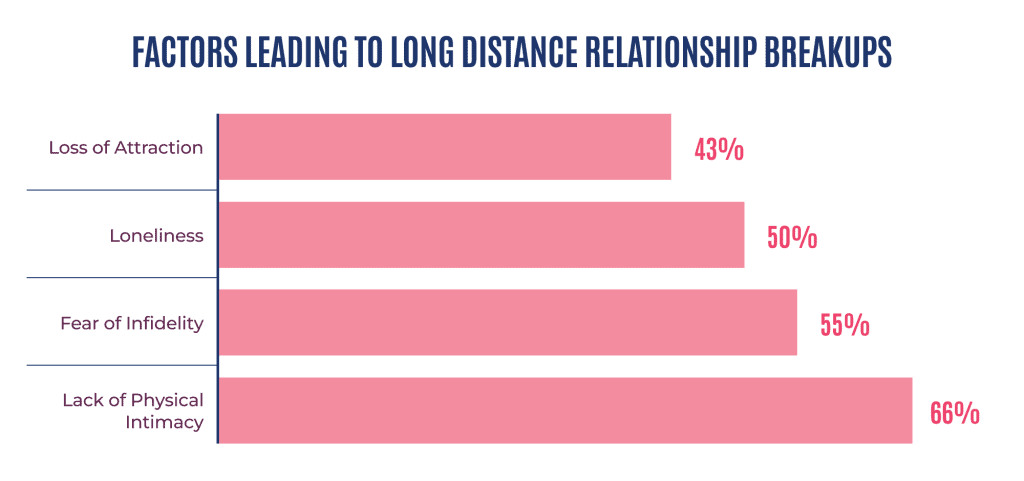 Finally, when meeting someone online, there is a possibility of encountering a love scam, especially if the person starts requesting money, claiming urgent needs like a sick mother or a car replacement. Since you can't fact-check these situations when you're not physically with them, it's understandable that individuals might be skeptical about engaging in long-distance relationships.
In 2022, Singaporeans experienced a financial loss of S$660.7 million due to scams, which saw a rise from the S$632 million reported in the previous year, the police have disclosed that over 53% of scam victims fell within the age bracket of 20 to 39 (TOC, 2023).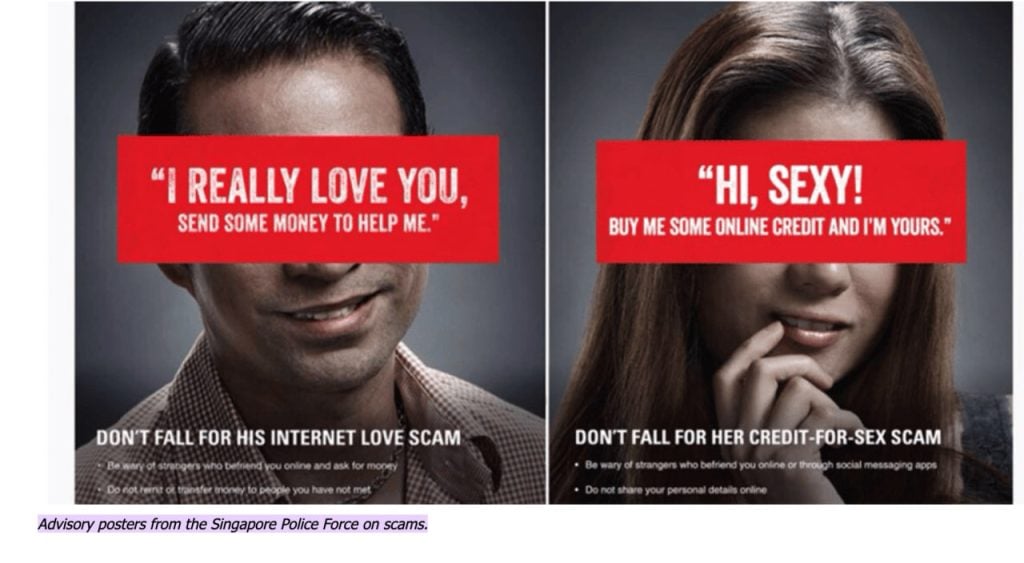 How to manage 
Engage in sincere discussions about eventually living closer together or completely closing the distance. Having a well-defined plan for the future can offer reassurance and motivation to both partners in the relationship.
Put in the effort to arrange regular visits and enjoy quality time together in person, whenever the opportunity arises. Planning your budget well in advance of the actual visit will add excitement to the relationship. These frequent visits can significantly contribute to deepening the emotional bond and providing reassurance about the future of the relationship (Chloe Tong, 2019).
Discover enjoyable and innovative methods to maintain a strong connection, like organizing virtual date nights, streaming movies together online, or sending unexpected gifts or letters. Take the time to learn your partner's love language and make an effort to fulfill their needs, as this will help them feel deeply cared for and loved (Jasmime Kaur, 2022).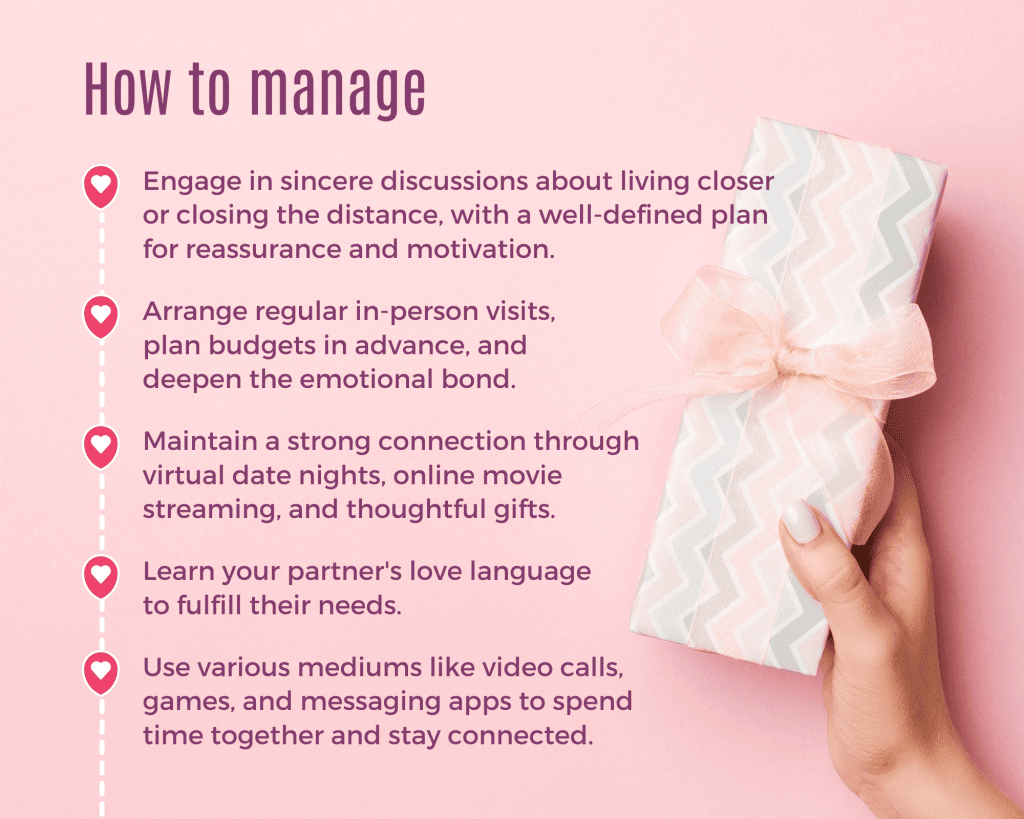 In our previous article on 'Dating as a Gen Z', we note that there are various mediums that couples could connect to spend time together, be it playing games when you're at the other end of the worlds and meeting virtually, or using video call, there are many platforms that are free that allow couples to spend time together now such as zoom, skype, facetime on apple, whatsapp video call, telegram video call. You can even schedule messages via telegram so that you're able to "talk" to your spouse when they wake up.
In summary, maintain a balance between communication and personal space in your relationship, showing consideration for each other's private lives. Look out for warning signs like commitment issues, dishonesty, or controlling tendencies. Confront these concerns with openness and sincerity.
Conclusion
While long-distance relationships can present challenges, they also offer opportunities for personal growth, deep emotional connections, and a chance to build a strong foundation for the future. With open communication, commitment, and effort from both partners, an LDR can indeed succeed and flourish. While it is indeed not for everyone, some individuals may thrive in their careers and personal life in an LDR.
Remember, every relationship is unique, and what works for one couple may not work for another. It's essential to communicate openly, express your needs and concerns, and work together as a team to make the long-distance relationship successful and fulfilling for both partners.